For our clients we offer accomodation in several partner institutions:
---
Luxury Aquapalace Hotel Prague 4* provides the perfect ground for business and relaxation, rest and entertainment. All in the immediate vicinity of one of the most beautiful Europian capitals.The hotel is a part of the AQUAPALACE PRAGUE area, wchich is the largest Central European aquapark. The services include an extensive modern conference center, excellent cuisine, direct acces to the aquapark and a wide selection of individual, family and wellness packages. Whether traveling on business or privately, a wide range of hotel and wellness services combined with and aquapark visit and Prague sights will make your stay unfogettable.
---
Hotel Belvedere Prague is located not far from Prague Castle with a direct and quick connection to the historical and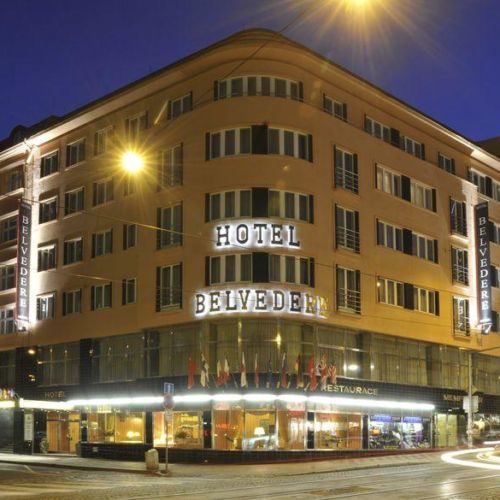 business center of Prague. In a functionalist building from the befinning of the 20th century there are 149 modernly equipped rooms, on the executive floor with a separate entrance and the lobby are located newly renovated suites and spacious business rooms alll equipped with high-speed Wi-Fi internet accesss. Pleasant Lobby Bar with a wide range of drinks is an integral part of the hotel. Parking is in the underground garage of the hotel. On the ground floor of the hotel there is the Á la carte restaurant Belcredi Bistro with a capacity of up to 60 seats and a range of fine internat-ional disches. A special discount of 10% is paid for the participants in the fairs at PVA EXPO PRAGUE.
---
Clarion Congress Hotel Prague 4* is located only 10 minutes by car or by direct bus (no. 136, 195) from the PVA EXPO PRAGUE. Vysočanská station on the metro line B connected to the hotel provides convenient and quick transport to the center of Prague. In our hotel we offer you accommodation on modern equipped air-conditioned rooms with satellite TV and free WI-FI. With a capacity of 559 rooms including 25 spacious suites, we are ready to offer you our services during and outside rooms including 25 spacious suites, we are ready to offer you our services during and outside the fairs. In case of demand please contact us at obchod.cchp@clarion-hotels.cz or call +420 211 131 144 and enter the password: PVA 2019. We will glad to send you a special offer.
---
Hotel Blue Orange 4* is a unique facility known for its friendly atmosphere and family environment. It is located only 2 minutes by car (5 min by bus) from the PVA EXPO PRAGUE Letňany. It offers 12 double bedrooms, both for smokers and non smokers. All the rooms are of an executive type with modern and practical equipment. Of course, each room is equipped with a toilet, LCD TV set, telephone set, safe, minibar and free WiFi (speed 100 MBit) connection to the Internet. As a hotel guest you can use the above standard services of the health club (cardio fitness, gym, spinning, squash, saunas, whirlpools etc.) which are included in the price of accommodation. The great advantage is a parking directly in front of the hotel.

---
Hotel Duo 4* is a facility which offers a wide range of services to its guests – accommodation, catering, conference services and services of a hotel sports centre. In 2014, the hotel underwent an extensive renovation during which public Lobby premises, Formanka restaurant, main hotel entrance, congress centre and 101 rooms were refurbished. The hotel offers in total 642 air-conditioned rooms in various categories with a WiFi connection. Stylish restaurant Formanka is specialised in traditional Czech as well as international cuisines and offers delicious meals. A flexible congress centre of the hotel offers altogether 11 conference rooms equipped with state-of-the-art technologies. In summer months it is possible to sit on the sunny summer terrace or in a large garden. A wide choice of services includes the Sports Centre where guests can enjoy a bowling centre with 12 bowling tracks, swimming pool, sauna, fitness, ricochet, massages and a cosmetic studio.
---
Pension Svět 3* is a guesthouse which is located in a quiet area of the Green Valley (Zelené údolí) in the village of Úžice located by the 9th kilometer of the D8 highway. Three large log towers make for a distinctive look that reminds of castle architecture. The interior of this unique guest house is designed in an exotic and original way, and the title of the house "Svět", which means "The World" in English, accurately characterizes the worldly, yet cosy atmosphere of the place. Individual rooms and their design are devoted to specific countries or places around the world.

---
Centrum Mariapoli is a pleasant modern congress and accommodation facility in a calm environment, situated only 10 minutes by car from the PVA EXPO PRAGUE Letňany in the Stará Boleslav direction. You can choose from 20 one-bed to four-bed rooms with their own sanitary installation. The rooms are equipped with a minibar and a telephone set, all rooms include free of charge WiFi Internet connection and most rooms are fitted with a TV set. From some rooms it is possible to use a direct entry into the garden, other ones have their own balcony.
---
1BigEurope offers accommodation in Prague during trade fairs and exhibitions in more than 120 contractual accommodation capacities from 5 * hotels to family pensions. The company has been operating on the market since 1992. No additional charges are charged to customers, and the prices offered are the same or lower than those of the listed hotels. In addition to accommodation, it is possible for companies to provide complete travel services for individuals and groups both in Prague and around the world (accommodation, tickets, visas, transfers, etc.).