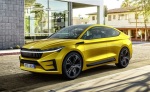 Even bigger and even more modern! This is what this year's e-SALON clean mobility fair held on the Letňany Exhibition Grounds from 14 to 17 November will be like. In addition to a showcase of electric vehicles, hybrids, electric motorbikes and electric bicycles by the world's best-known brands, you can look forward to aircraft with timeless drive, test drives, competitions and interesting lectures. But that's not all …
... you will experience the literally electrifying future at the ŠKODA AUTO booth. This car manufacturer will introduce several models – CITIGOe iV, SUPERB iV and VISION iV – for the first time in the Czech Republic. Come celebrate a new era of mobility with us and see what it is like to say goodbye to diesel and petrol! The general partner of the fair is CEZ Group.
CZK 50 discount per ticket: in online ADVANCE SALE or as a VOUCHER
The fair is open to the general public from Friday 15 November to Sunday 17 November.
Opening hours: Thu: 9 a.m. – 18 p.m. | Fri–Sat: 10 a.m. – 6 p.m. | Sun: 10 a.m. – 5 p.m.