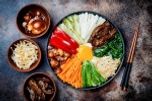 You can also pay a visit to the FOR GASTRO & HOTEL fair from the 10th to the 13th of October, quite literally heaven on Earth for all HoReCa professionals, those that love good food and culinary artists. This year's hot newcomer is the Wine Zone, sure to delight everyone who likes wine, from the 11th to the 13th of October. And there is something for those that prefer the amber nectar as well. We are sure you'll agree that a fine drink should be accompanied by some fine food. If you do, then be sure to make for Hala 2D, where you can discover for yourself the taste of Korea! There are plenty of delicacies from this exotic cuisine to look forward to. The accompanying programme, meanwhile, is packed with events such as the prestigious CHEF OF THE YEAR competition and a barman show. There is also plenty for culinary professionals looking for a new challenge in their work. After all, GASTROJOBS CAREER DAY – a work exchange – is part of contract day on the 10th of October.
Download a 50 % discount on the admission price at www.for-gastro.cz/sleva.
Opening hours: Thursday – Saturday: 10:00 a.m. – 6:00 p.m. | Sunday: 10:00 a.m. – 5:00 p.m.
Contract day on Thursday 10th October is intended for professionals in the field only.
The fair is open to the general public from Friday 11th October to Sunday 13th October.