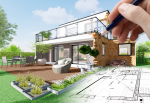 Did you know that we have been writing the story of FOR ARCH for three decades? Don't miss this year's anniversary and celebrate with us the biggest event of the construction season. A must! :)
There is no doubt that FOR ARCH is the right place for all do-it-yourselfers, craftsmen, architects and, especially, those who are going to reconstruct or build a house. From 17 to 21 September, PVA EXPO PRAGUE's 7 exhibition halls will present everything for building a house, including heating, swimming pool, sauna and security solutions. There will also be lectures and popular consulting centres.
FOR ARCH doesn't forget about children either, and this year is no exception. Are you planning a visit to the fair, wondering about babysitting or a programme for your children? You don't have to any more! We have prepared several attractive options for the youngest visitors – a children's play area with lots of toys and games open throughout the fair, the Forest World nature trail, and the Craft for Children programme on Saturday, 21 September, to experience first-hand what craftsmen's work looks like. All that in a fun way.
The general partner of FOR ARCH is ČEZ Group.
Tickets with 20% discount in advance sale until 16 September at https://vstupenky-pva.cz/for-arch-2019.
Opening hours: Tue–Fri: 10:00 a.m. – 6:00 p.m. | Sat: 10:00 a.m. – 5:00 p.m.